Hello our dearest friends. Europamundo would like to suggest you an amazing and complete tour through some of the most charming cities of Portugal. From the cosmopolitan Lisbon, to the romantic Porto, we invite you to discover this extraordinary country. Would you join us? "Tour: Portugal for familes"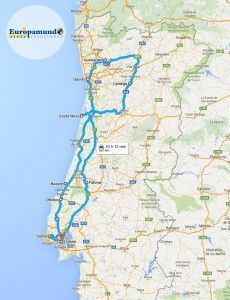 Fado (typical portuguese music) , great food, magic walks, romanticism, wine…..these are some of the images that come to our mind when we think about PORTUGAL 
An elegant country full of history and charm, Portugal is undoubtedly a great destination to enjoy your holidays.
In this article we are going to recommend you a complete nine days tour, from Lisbon to Porto, which will give you the opportunity of discovering some of the main landmarks of Portugal.
Lisbon: International ambassador of Portugal to the world.
Our adventure starts, of course in LISBON  
Lisbon is not only Portugal´s capital, but also the biggest city in the country. Located in the estuary of Tajo´s river, this charming city is popularly   known as the City of the Seven Hills.
Our proposal will include a panoramic visit through the main landmarks of the city.  From outstanding monuments, to street walking, without forgetting the best kept and most delicious secret of the city.
1.Los Jerónimos monastery
Known in Portuguese as the Mosteiro dos Jerónimos, this magnificent building is one of the most astonishing attractions of Lisbon. Declared a World Heritage Site in 1983, the monastery was constructed along the sixteenth century to celebrate the return from India of VASCO DE GAMA one of the main  navigators of Portugal´s history. In fact the monastery is located where the Ermida do Restelo was, a little church where Vasco de Gama and his crew prayed before their expedition. You must not forget that Portugal´s history is strongly linked to the sea.
The strategical location of the country, turned Portugal  into a global power  along the fifteenth and sixteenth century. In those times Portuguese sailors discovered faraway lands in Asia and America. In fact Vasco de Gama was the first navigator to successfully conclude the journey between Lisbon and Calcuta in 1498. Learn more about this amazing adventure in the following video.
https://www.youtube.com/watch?v=jL2z2VCg5fw
2.Alfama: the most ancient district in Lisbon
No one better than the greatest lady of Portuguese fado, to submerge you in the magic of Alfama, the most ancient district in Lisbon known, among other reasons, as the cradle of fado. So, first of all, listen to the moving voice of Amalia Rodrigues…..
A neighbourhood full of taste, Alfama was traditionally inhabited by fishermen. We recommend you to go all over the narrow and steep streets of Alfama by walk, asthe most part is pedestrian. Tram number 28 will take you to the highest part of the district.
We also recommend you to take your time in two extraordinary lookouts: mirador Das Portas do Sol and Mirador de Santa Lucia. Two uniques opportunities to get a whole vision of Alfama.
Along with this two, we are going to recommend you some other places that you should not miss in your visit to Alfama.
Fado Museum
Alfama means "fado" and if you want to learn more about this emotive rhythm, you should miss this museum where you may discover its origins and development and meet their main exponents.  You can get information about opening hours and activities HERE
Lisbon cathedral
A great example of Romanic architecture, Lisbon cathedral was constructed in the second half of the twelfth century. Don´t miss its magnificent cloister, similar to the one of Los Jerónimos ´monastry.
San Jorge´s castle
Another magnificent landmark of Lisbon, it is quite hard to get there as you will have to face a very steep walk, but we assure you that the effort is worthwhile. Discover the eleven towers of the castle, the dungeons and transform yourself into a brave knight.
Feira da Ladra
This is one of the most famous open air markets to enjoy in Lisbon on Tuesdays and Saturdays. Still from the Middle Ages this market is well known for the variety of rare antiques and the joyful ambient that surrounds it.
3. Pasteis de Belem: The most delicious secret of Portugal´s culinary tradition
And now, before continuing with our tour around Portugal, we are going to refuel, savouring the delicious Pasteis de Belém.
We are not sure about the exact moment when these small delicacies were cooked for the first time. Different sources date them before the 18th century. But what is sure is that it was within the walls of the monastery of Jeronimos that this secret recipe was created.
In the mid-19th century the convent closed and the head pastry chef decided to sell his secrets to a family, whose descendants are today still the only ones capable of developing the original formula of these pastries. In fact, it is said that just three persons  are depository of the formula and so the  mass and cream are made behind closed doors.
Even so, for those brave enough to make a try in the kitchen we can only tell you that to make the cakes you will need, among other ingredients, egg, sugar, cinnamon, milk, puff pastry, lemon, cream and corn flour. This video may help you to make your own pastries
But in any case we strongly recommend you to take a walk through Belem´s district, and enjoy the original recipe of the House Pasteis de Belem.
And also, once you have finished our panoramic visit we strongly recommend you to get lost in Lisbon´s  avenues and small streets. Don´t miss the magnificent facades full of tiles in blue and white colours.
Get into a tram and transport yourself into the magic atmosphere of the city, and revisit your favourite spots.
Sintra
Finally our approximation to Lisbon will finish with a visit to Sintra, before discovering some other great places in Portugal. World Heritage Site from 1995, Sintra is a charming villa full of palaces that remind us the universe of tales. Constructed in the middle of a natural park, the villa was originally used as a vacational residence for the Lisbon aristocracy.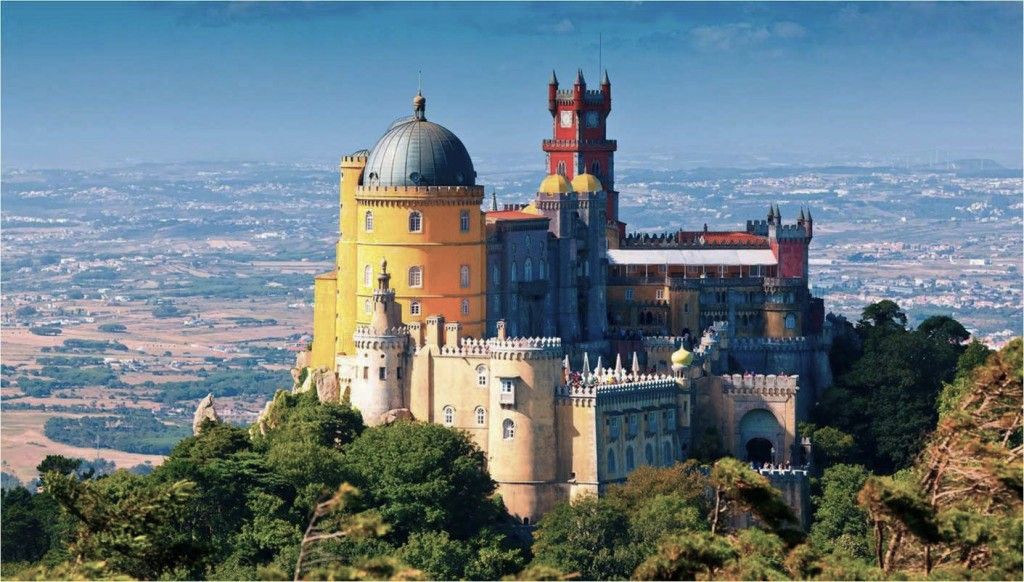 Obidos, Alcobaça, Nazaré, Aveiro
During the fourth day of a tour through Portugal we will visit four singular cities:
1.Obidos, Alcobaça and Nazaré
These three villages are some of the main attractions from the West Tourism Region of Portugal. A rich zone located in the coast and relatively near from Lisbon. That´s why the election of these enclaves constitutes an ideal opportunity to get the most out of your visit to Portugal.
Óbidos is a medieval city, surrounded by an amazing wall.  Walking along its cobbled streets, you will be submerge in ancient times and discover the traces of ancients cultures. Besides this journey back in time is extremely authentic during the celebration of the famous Óbido´s Medieval Fair, an amazing experience where you can enjoy an authentic medieval market with its music, craft demonstrations, wizards and a traditional medieval meal.  Take a look at all the thing you may find there
https://www.youtube.com/watch?v=B4Gy-GKioAQ
Undoubtedly the most astonishing attraction of Alcobaça is its magnificent monastery, founded by Portugal´s first king in 1153. Constructed in the Gothic style, this monumental site stands out for its beauty and the impressive church, one of the biggest in Portugal.  
Nature and history goes together in the enchanting village of Nazaré. Considered as a great example of a typical Portuguese village, Nazaré offers amazing beaches (Praia de Banhos, Praia do Norte), loved by surfers. Near the beach you will find the fishing port, an ideal location to enjoy a great plate of fish with the best of views. Besides in Nazaré you will get an amazing view if you visit the Suberco viewpoint
2.Aveiro
Known as Portuguese Venice, due to the channels that cross the city, Aveiro is an outstanding city of the Centre Region of Portugal. In Beira Mar neighbourhood you will enjoy a typical fish market every day. During the night the main square of the neighbourhood ( Praça du Peixe) is full of people, eating and drinking in the various restaurants and taverns, that you may find.
Aveiro also has amazing beaches such as Praia de Barra – where you will find the third tallest lighthouse of the world -;  Sao Jacinto and Costa Nova – famous by some typical houses called "palheiros"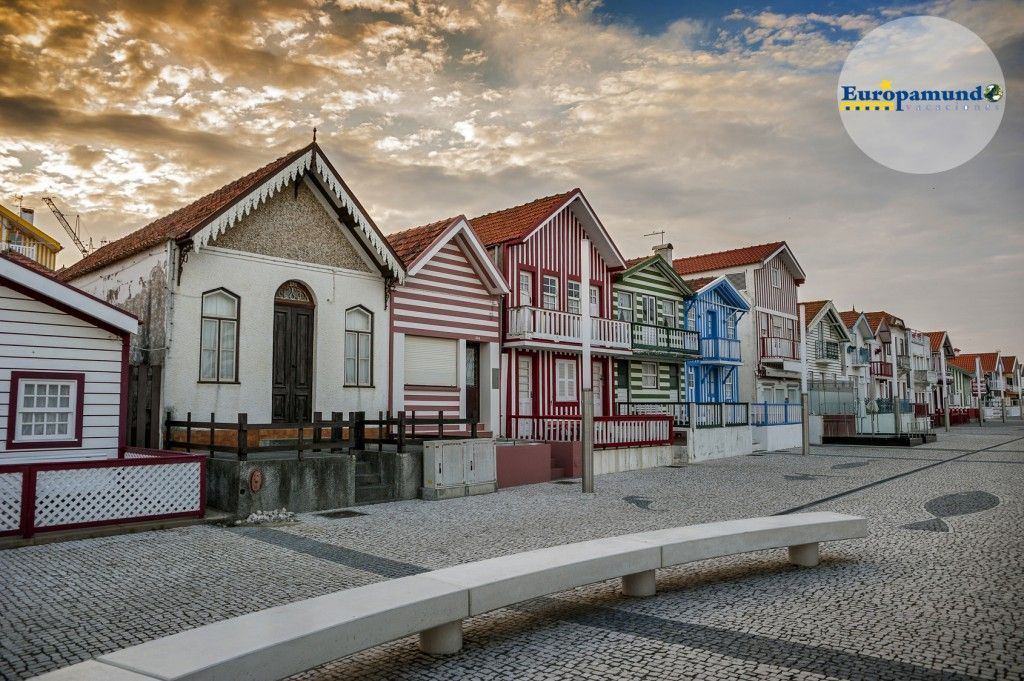 Following Duero´s path to fall in love with Porto
No one can dispute how water is an element strongly linked to the magic of Portugal. From the magnificent Atlantic Ocean, that "opens" the country to the world, with 1793 coast kilometres, to the rivers.
And regarding rivers, if Tajo river was one of the main characters in Lisbon´s personality, now we will be entering in the "kingdom" of the Duero river, going through Duero´s Valley until Porto, one of the most romantic cities of the world.
So that, the fifth day of our adventure will take us to some of the most magical sites of the surroundings of Duero´s river.  Take a Look!
1.Lamego
From Aveiro, we will visit the  beautiful villa of Lamego, one of the most ancient cities in Portugal. Again we will be visiting a villa crowned by a magnificent castle ( Lamego´s castle), which in fact was declared National Historic Monument. Although the castle is closed it is worthwhile to take a walk along the steep street of the villa till its walls and its magnificent tower (more than 20 meters high). You must also visit Lamego´s cathedral (Sé), declared National Monument and extraordinary beautiful.
Then we will offer you a first introduction in the universe of Portuguese wines with a visit to Quinta da Pacheca, a great opportunity to get in contact with the process of making Porto wine.
And before discovering Guimaraes, the spot where Portugal was born, we will be delighted by the Baroque enchantment of Casa de Mateus, an astonishing palace, surrounded by an impressive garden.  You can get more information HERE 
2.Guimaraes: "Aqui nasceu Portugal"
Once you enter Guimaraes you will find the inscription "Aqui nasceu Portugal" in one of its walls. The exact translation will be "Portugal was born here".
Although it is quite a small villa, Guimaraes is a place full of charm in which the medieval atmosphere goes along with contemporary art and modernity. The City Hall (Santa Clara convent) was one of the richest convents in Portugal.
Porto: The soul of Portugal 
Magic, light, romanticism, water, character, authenticity and even a hint of delicious decadency. All these ideas may help you to construct an approximate impression of Porto. But, apart from all the recommendations we may give you in this article, the inevitable consequence that Porto will surely provoke in your soul, is a complete surrender to this magnificent place.
Porto is Portugal´s soul.  A magical place where time seems to stop and snapshots from romantic an ancient times, imbibe us in a unique atmosphere.
There are some many landmarks in Porto. Places you should visit such as the cathedral, the stock market palace, Avenida de los Aliados (Ally Avenue), Praça da Liberdade (Liberty Square) or the City Hall, among others.
But in this section we will like to propose you also a different approximation to this city. More than visiting Porto, the best thing you can do is TO LIVE the city. And to get this goal there are some spots that may help you to get a complete and vivid experience of the city.
1.A walk through Ribeira
I don´t know if it is possible to choose just one magic spot in Porto. Although  It may be a unmanageable task, no one can dispute that Ribeira is one of the most magical corners of Porto and a place you must not miss.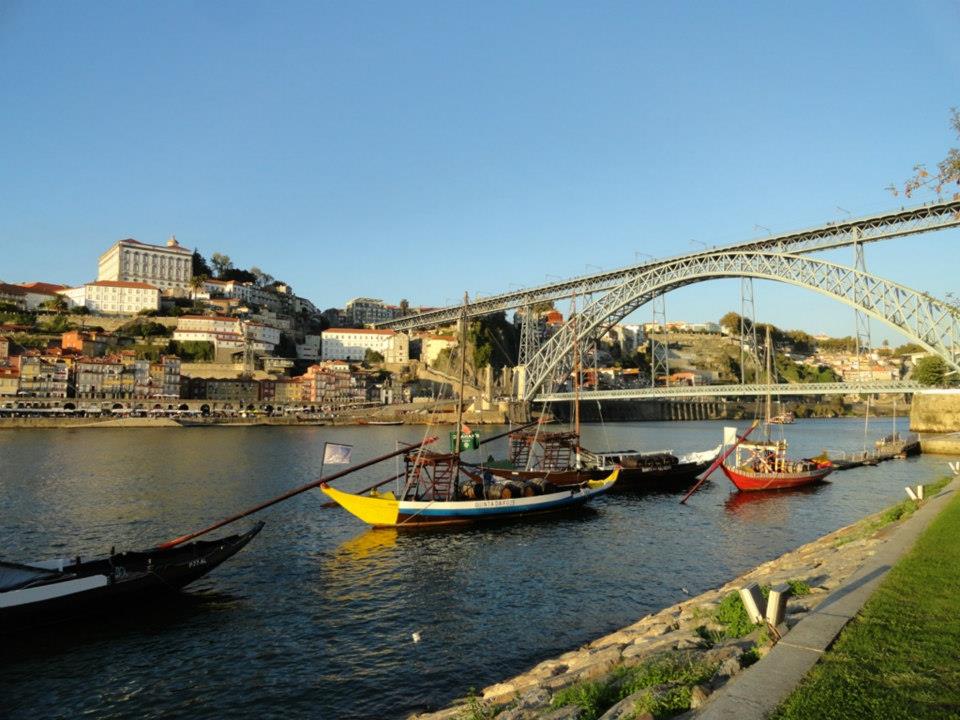 Duero´s riverbank caresses ancient facades while the sparkling and calm waters of the river share with us one of the most romantic walks you may ever find.
Also in Ribeira distric you may find the main manufactures of the best Porto wine, and you will have the opportunity of visiting these ancient wineries and learn about the creation of Porto wine, without forgetting of course the compulsory tasting!
2.Lello e irmão Booksellers
How could it be possible to be transported to Harry Potter´s universe in the hearth of Portugal? Well, here you have the answer in this magnificent bookshop, one of the most enchanting and astonishing spots of Porto, and also chosen to shot some of the scenes of the famous film.
Constructed at the beginning of the twentieth century, you will be entering in one of the most beautiful bookshops in Europe.
3.Mercado do Bolhao (Bolhao market)
One of the most lively places in Porto, in this Market you will find fresh fish and vegetables along with flowers and above all, a sensation of authenticity that will surely fill your heart!
4.Majestic Café
To conclude this small selection of spots in Porto, we will like to recommend you the Majestic Café, an ideal place to take a rest while enjoying great coffee and of course some delicious example of the Portuguese confectionery.

Coimbra, Batalha, Alijustrel, Fátima
Leaving Porto and getting into the Coimbra district, we will discover this small but impressive city that hosts one of the ancients universities of the world.
1.Coimbra
Apart from the magnificent Monumental Complex of Coimbra´s university, the old cathedral is worth as visit. We also recommend you a visit to the Botanic Garden (admission free) and if you are travelling with children, you will surely enjoy Portugal dos Pequeñitos.
This impressive thematic park, will give you the opportunity of discovering all the principal monuments of Portugal in small recreations, or enjoy a permanent exhibitions of more than 300 Barbie dolls. You can get information about opening hours and tickets HERE
Once we visit Coimbra, and before reaching one of the most stunning and spiritual places in Portugal – Fatima´s sanctuary – we will visit two small villas: Batalha and Alijustrel.
2.Batalha and Alijustrel
In Batalha we will find again the characteristic  binomial combination between history and nature. There along with the impressive Batalha monastery, you will find the magnificent Moeda caves, quite near from Fátima.
Alijustrel on the other hand is a small villa that will gradually introduce us in the spirituality of Fátima. Here you could visit the house of LUCIA DOS SANTOS and the Martos family.
3.Fátima: Portuguese house of pilgrims
Around may 13th and October 13th 1917 three small shepherds, Lucia dos Santos and Jacinta and Francisco Marto claimed to have received a visit from Virgen Mary in Fatima.
From this moment on, this place has turned itself in one of the most important pilgrimage place in the world.  Benedictus XVI visited Fátma in 2010 in the anniversary of the apparition of the Virgin. Thousands of pilgrims visit this sanctuary every year, creating a profoundly spiritual atmosphere.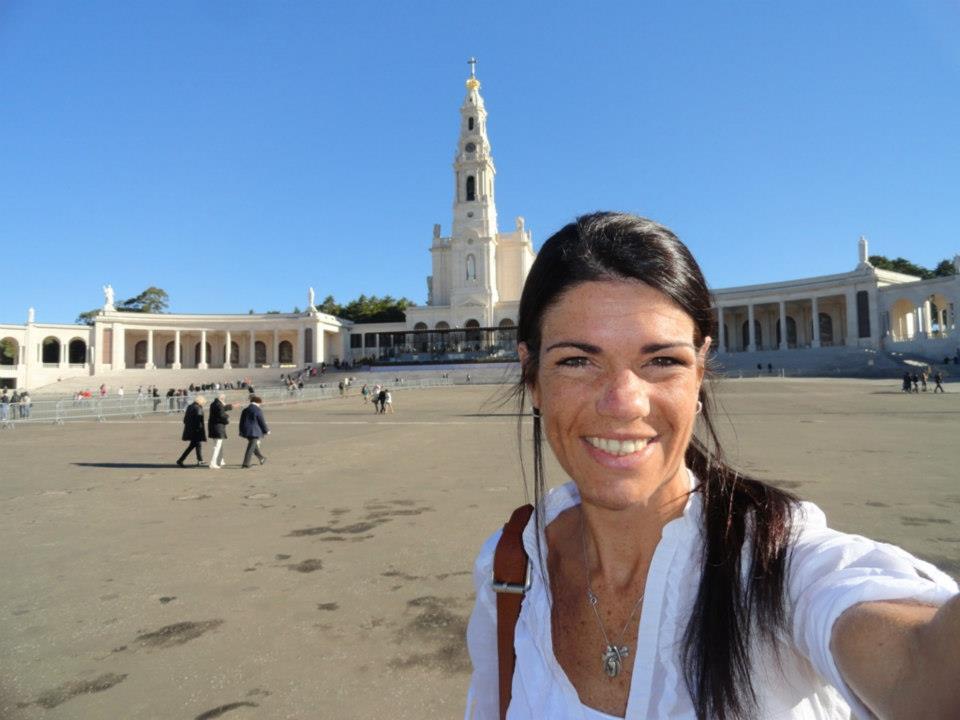 Up to here Europamundo´s proposal to discover marvellous Portugal. Appealing, isn´t it?
So, don´t miss a second and visit our WEBSITE where you will find all the information regarding this tour.
Enjoy Portugal, live it, experiment its landscapes and people and please share your experience with us. Which is your favourite city in Portugal?