We are about to reach 100 000 FANS and we want to celebrate with you. Take part in our picture contest and win yourself a fabulous Europamundo holiday tour in one of our circuits!!!
Rules for Participation
Europamundo Vacations invites you to participate in this PHOTOGRAPHY CONTEST.
1.- All the fans of the different Europamundo fan pages can participate. Participants must be at legal age.
2.-Download and print the cutout of the Europamundo Bus from our official Facebook page. Use your creativity and make a model of Europamundo Bus and decorate it as you like. Click a picture of yourself with your craft (model of Europamundo Bus)  make sure it's a original and a fun photo with the Bus and upload it to our Facebook application at the following link: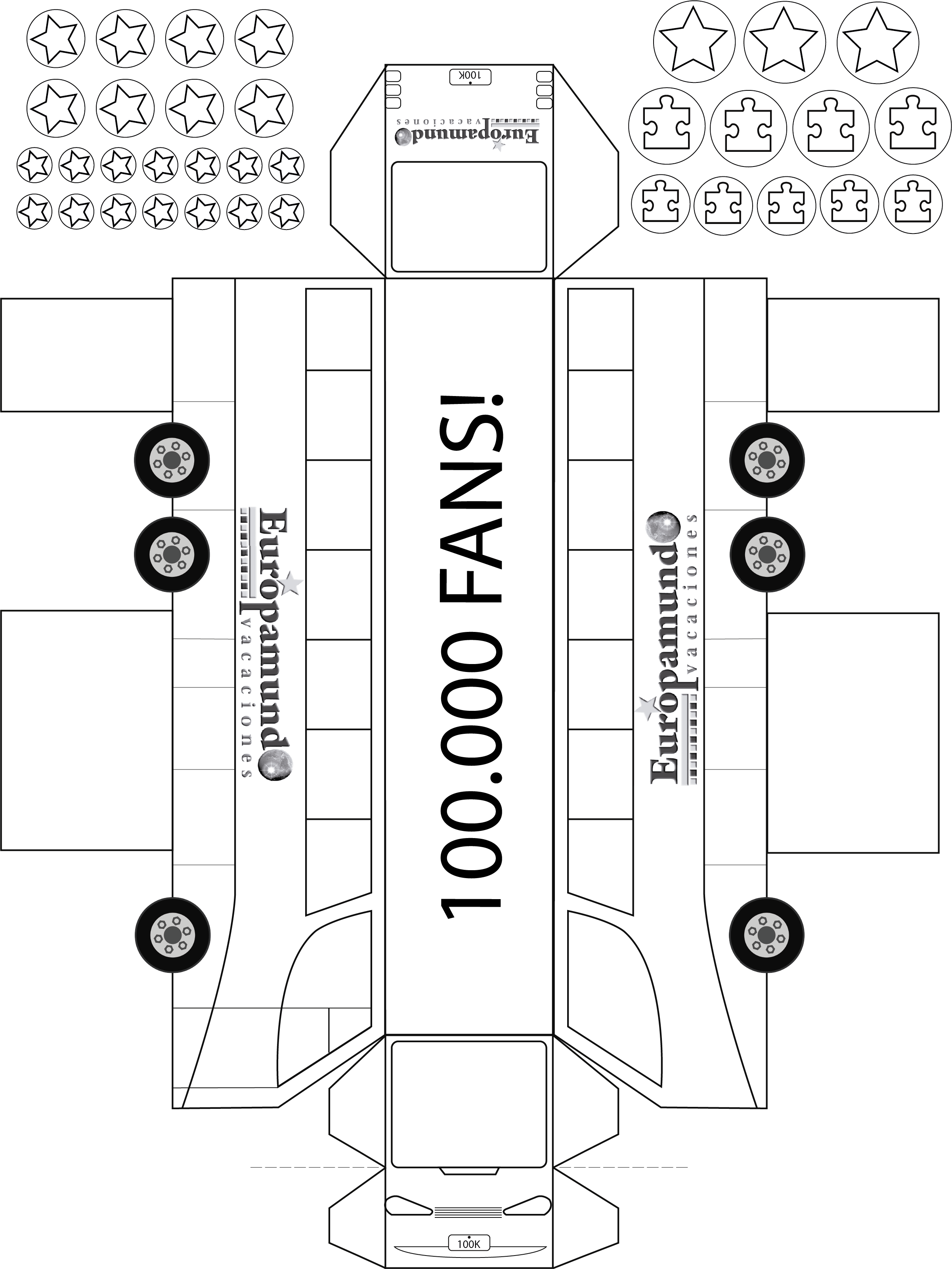 + CLICK HERE TO SUBMIT YOUR PHOTO TO OUR APPLICATION 
Ask your friends and family to vote for your picture directly in the application because out of the 15 photos chosen, 10 finalists will be the most voted!
3.- Each participant can send one single photograph in which he/she must appear although if you wish you can be accompanied by family and friends.
Photographs that do not include photo retouching will be more positively valued.
4.- The 10 most voted pictures through the application will be chosen as finalists, other 5 finalists photos will be chosen by the directors of the company as per their individual criteria. In total 15 photos will be chosen as finalists.
5.- Among the 15 finalist photographs, the winning photograph will be chosen through a lottery using a random selection system (www.random.com).
6.-The last date for uploading your picture is on Monday, 22 May. On 28 May at 23:59 hrs. (Spain hour) polls will be closed and the winner will be announced  live on May 29 at 17:00 hrs. (Spain hour) on our official Facebook fan page.

PRIZE
The winner of the contest will win one of the terrestrial tours of Europamundo Vacations plus a 50% discount for his/her companion. The remaining 14 finalists will get a 5% discount on their next trip with Europamundo.
The chosen tour must have the following characteristics:
– Circuit not exceeding 10 days that must be done during the 2017/2018 season, the limit to enjoy the prize is 31 March, 2018.
– Europamundo Vacations works in some destinations in collaboration with other companies, for that reason some of our tours are excluded from this initiative. The circuits for Asia, tours that include cruises or tours for Turkey, Russia or Mexico are excluded from this promotion. Also excluded are tours that are new to the season.
However, if the circuit you would like to do is in one of the destinations mentioned above, contact us! We will see what we can do.
This contest is organized by Europamundo Vacations. Facebook is totally disconnected from this initiative.
Any aspect not contemplated in this section will be solved by the organizing committee and the participants will have to abide by the decision.
Participating in this contest authorizes us to use your photographs for advertising purposes in different initiatives of the company.
If you participate in this contest we assume that you understand and accept these rules.
Craft to participate! Do not miss the opportunity to win a Europamundo  holiday tour.