Are you travelling with Europamundo shortly? There are so many questions that emerge before starting a big travel: what is the best way of organising my luggage? What kind of clothes should I bring? How to package my medicines?, shoes?, time zones? Plugs? All this stuff and much more in the following post! Learn these travel tips!
Recommended Vaccines
¿Dudas si necesitas algunas vacunas específicas para viajar a tu destino?
Any questions about which vaccines are recommended to travel to your destination?
With these travel tips, you can check either if you need any specific vaccines or not. If you are travelling abroad it is fundamental to take care of your health and that of those who travel with you. You must be aware of the possible diseases and potential infections likely to happen in the place you are travelling to. It is not the same to travel to Europe, for example, than to the Middle East, Asia or Africa, all these places where some vaccines are required.
Whatever the reason of our travel is (work, leisure…) we must always be prepared and we should take preventive measures to protect our health. That is why there are several recommendations depending on the kind of travel:
Depending on the destination

Grades of recommendation

Depending on the season of the year

Age of the traveller

Depending on the type of travel ( urban, adventure in the jungle, trekking…)

Etc
HERE you can consult an Spanish link with all you may need to know about vaccines and antimalarial drugs necessary for your destination. Complete this information with the suggestions given in your country.
With this web browser you may find relevant information about grades of recommendation of the different vaccines. Anyway, vaccines prescriptions is normally given individually and taking into consideration a wide range of factors in each traveller and the season of the year when you travel.
If you already know where you are travelling, it would be very convenient to consult with your doctor the list of International Inoculation Centres available in your city. So that, you may receive all the proper information about vaccines, previous treatments and prevention.
Always remember that….
Before getting a vaccine you must check with your doctor or visit your specialised Inoculation Centre, where you will get the appropriate recommendations.
Please bear in mind that Europamundo can´t help you with these kind of questions. It is your general practitioner, who knows you, who knows your medical history of vaccines and prior diseases, the one you must see, so he will help you organize your future trip without any risk. If you have questions, see your professional!
Let's talk about plugs!
This is one of the travel tip most frequently neglected. Is the type of plug the same in your country than in the rest of the world? Plan calmly before preparing your suitcase and keep in mind the type of plug you will need since, at times, we do not stop to think that in many countries the plugs are different to those we tend to use. Keep in mind this picture before you travel! Although you can always ask for an adapter in the hotel to fix it.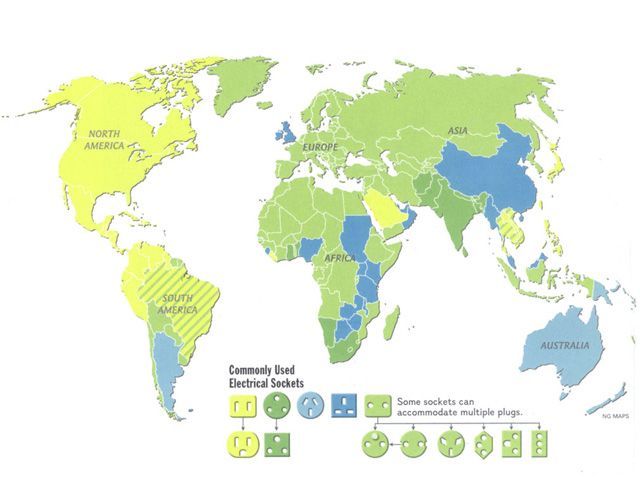 Do you know what kind of liquids are not allowed in your hand luggage throughout the flight?
Water and other drinks, soups, syrups, creams, lotions, perfumes, gel, shaving cream, deodorant.. But there are exceptions. You can bring them if:
You carry them in a transparent plastic bag, no larger than 1 litre. Besides every liquid must be in an individual container, not exceeding 100 ml. Remember that the bag must be well closed.
In case you need to use any liquid during the flight due to a medical condition or to feed a baby, for example, bring with you the compulsory prescription.  
There is no problem in getting on- board drinks or perfumes purchased in the airport shops or in the plane.  
Check these travel tips before preparing your hand luggage and make sure everything is in order
Where should I carry my drugs in my suitcase?
Are you travelling and you need some prescribed drugs or are you taking them in case you need some? Here you have some travel tips that will be very useful for you:  
In general, in Europe it is not problematic to carry drugs from one country to another, provided that they are for personal use. However, it is convenient to know that many countries restrict the entry of some medicines. For example:
In India, Pakistan, Turkey and some Middle East countries there are lists of illegal drugs and you might have serious problems if you try to enter them.
2 tips:
In order to avoid problems entering a country with your medications when traveling, we recommend you:
To get in touch with the Embassy or Consulate of your destination country before your trip and so you may clear all the doubts.

You can also contact the flight company to seek information,  as in many occasions, they will give you advise on how you should carry the medications you need.
Now, once known this, the next thing you need to do is make a personal inventory of all your medicines and medical items and see which of them are priority and what are the ones you don't need and take just in case.
Be careful with the quantities!
It may be a good idea to take spare medicines. However, you may have problems to enter another country if you take an excessive amount of medication. You must determine the reasonable amount of drugs without a prescription required depending on the duration of the flight, or any delays you may suffer.
Where should I keep my drugs?
You must carry the medications in your hand baggage, so it will be available in case needed.

However, if you carry several containers of the same medication,  it is better for you to distribute them between your hand baggage and luggage you invoices.

Be aware that you can´t keep some medications, such as insulin, in the aircraft luggage compartment as temperature changes could alter them.

We strongly recommend you to carry drugs always in their original packaging, with your corresponding prescription and not in pill boxes. Since they could arouse suspicions in customs controls.
In case you need to bring any kind of medication always with you,  ask your doctor to issue a report with the name of the medication, dated and sealed before traveling. This will help you to justify the presence of medications in your hand luggage. In some countries the safety inspection personnel may ask documentation to determine whether the medications that you take are correct. That is why we recommend you to keep your drugs in the original containers.  
Take a report!
If you need to buy your medication during your stay abroad, your physician's report will help you to get it on time in the country of destination. It may also be necessary if, at any time, you require health care in the country of destination and thus the local doctor will know what kind of drugs you are using.
Remember…
Europamundo can´t  tell you what types of drugs are permitted or which are the ones you may need during your holidays.  You must talk directly to your doctor or contact the Embassy of the destination or consult their websites before leaving your country. Don´t keep an excessive amount of drugs in your hand luggage and keep the rest in your suitcase. And also, if possible,  bring with you a report from your doctor.
Time Zones
Are you travelling abroad? Do you know what´s the time to receive a call or to telephone home? Here you have some tips that will help you. Take a look at the following map: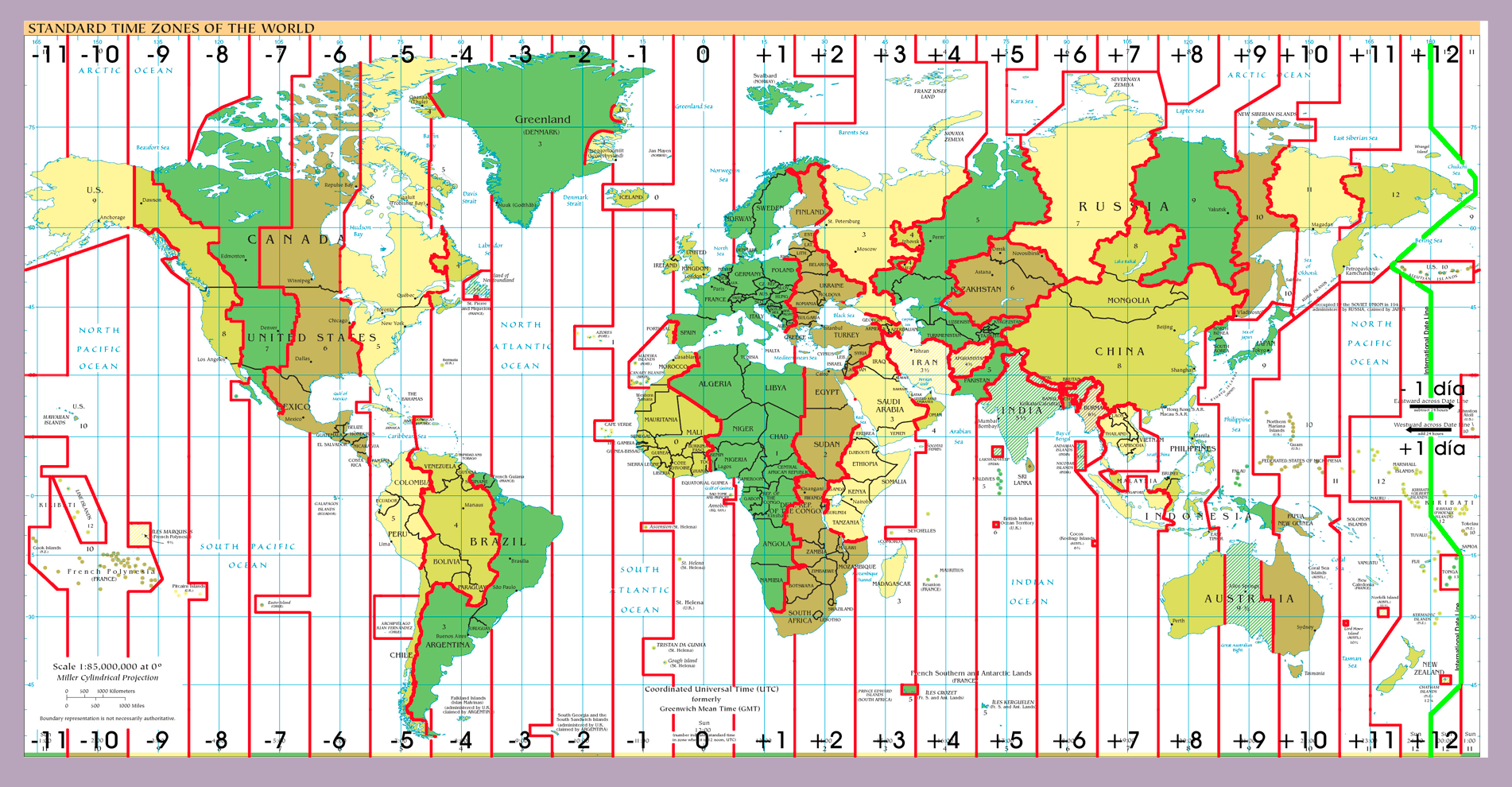 Some countries add an extra hour during the summer in order to make the most of natural sunlight. Northern Hemisphere countries add this hour in March or April while Southern Hemisphere countries add it in October or November.
Watch out!
There are countries that have their own time zone, so they don´t follow the pattern that marks the Coordinated Universal Time and therefore we should be well informed when we travel as there may be a large lag.
Attention!
You know that the earth revolves from West to East, so going from one time zone to another towards East, you must add an hour. But if you are travelling the other way round, you must subtract an hour.
Time zones in Europe
Focusing on Europe, you should know that, there are three different time zones:
Great Britain, Iceland, Ireland and Portugal are within Greenwich time zone.

Eastern Europe countries time zone are are Bulgaria, Cyprus, Estonia, Finland, Greece, Latvia, Lithuania, Romania, Turkey and Ukraine.

The rest countries, including Spain, share the Central European time zone.
Are you travelling soon to a concrete destination? Check HERE the World´s Time Zones. Just introduce the city you are travelling to and you will get also the weather forecast.  
Tips to prepare your luggage
How many serious headaches may provoke the preparation of our luggage before a journey!!! What kind of clothes should I bring? Just one pair of shoes or more? How many suitcases? Learn here some useful tips!
To begin with, we need to know where we are travelling, the weather forecast and make a list of those things that must be in our suitcase. This article may help you to solve some of your doubts.  
Do not keep in your suitcase the first you see in your closet, or choose things that you won´t probably wear.  If you prepare your luggage rashly you will only get troubles and a backache.
Here you have a list of items that may help you to prepare your suitcase.
Watchout
Although the list is very long, it is advisable to carry a suitcase as light as possible, as it will be with you through all your trip.

Don´t fill your suitcase with "just in case" stuff and be aware of the maximum weight that can be billed on the plane and our buses.

We must evaluate the things we are going to need, depending of our type of tr

.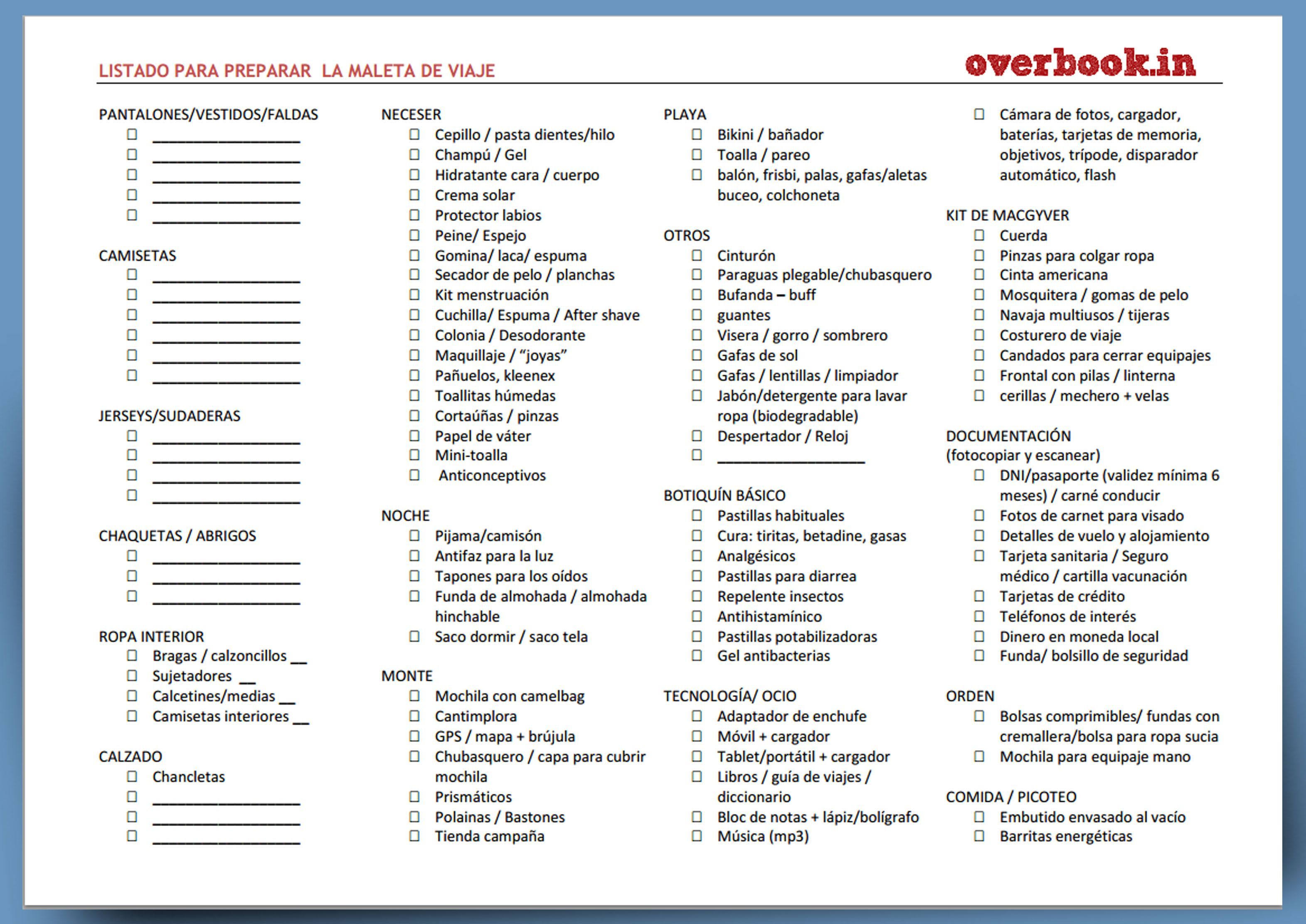 In addition, bear in mind that we can buy things at our destination, if necessary.
Download the list and expand it HERE
Before continuing with our suggestions, take a look at this video. If you organize yourself properly, you can keep a whole wardrobe in your suitcase!
Remember
You don´t need to wear a different garment every day.

Try always to take the most comfortable shoes you have.

If you are spending more than one night in the same place, consider to take a small pot of detergent, so that you can make a small laundry.

You can even use the steam in the shower to stretch your clothes

It is always a good idea to keep a small umbrella in your suitcase.
Watch out!
We recommend you to check always the weather forecast before leaving your country. Make sure you are not forgetting anything important. Although you may buy whatever you need in your destination, it is always better to leave your house well prepared. Don´t you think so?
The best shoes for your trip
Which is the most appropriate footwear for each occasion? Which is the best to keep in my suitcase? Here you have a few guidelines that surely, will help you. Keep on reading…
"Caminante no hay camino, se hace camino al andar. Al andar se hace camino y al volver la vista atrás se ve la senda que nunca se ha de volver a pisar. Caminante no hay camino sino estelas en la mar" (Antonio Machado)
As walking is what reveals life, other cultures, other experiences. You must use a good pair of shoes that helps you in this task. We're ready: ticket on the table, destination, but now what? Now it´s the time to decide what to put in the suitcase and given the fact that this is something very particular, we want to call your attention now to something capital: footwear. Be prepared to take with you these tips regarding footwear.
7 important question about footwear to answer:
Where am I going?

How will a travel?

Casual or formal?

What kind of ground am I going to walk on?

Cold or hot weather?

Is it going to be rainy?

Do I need my feet protected and warm or cold and free?
Watchout
There is no a perfect footwear for everything. The perfect shoe for the beach won´t serve you in case of rain or snow, or vice versa. Do not forget that a good and appropriate footwear  is fundamental to get the most of your experience.
Plane footwear
We recommend you to use extremely comfortable footwear on the plane: boots, sport or dancing slippers. Also we recommend you to wear or carry  socks with you.  Besides we recommend you to avoid sandals or flip flops in the plane, as it is normally cold inside the aircraft.
And after this, lets focus on our tour. It is a good idea to carry different types of shoes, easily adaptable to your style of travel. Here you have several options you'll need to adapt to the type of climate and travel that you want to do.
Top 7 footwear
1 Hiking-  trekking  boots – very useful especially if you are going to somewhere snowy, to the mountain or someplace where you may need a sole with a good grip. Many people prefer them for everyday use in their travels, but be careful of bringing a fresh type during the summer. And, please!! Don not use it for the first time in your tour. They may cause you blisters.
Comfortable shoes – If you are going to spend many hours walking and you like to wear shoes, take the most comfortable you have in your closet and be aware that you are going to use them probably every day.

Sports shoes – if you have a pair of  shoes that helps you to walk without getting tired, they should be in your suitcase. Compulsory!

Comfortable Sandals  Avoid high –heels sandals (unless you use them frequently) but some comfortable sandals for hot countries would be a great idea.

Flip Flops – if you'll be on the beach, take short walks in the summer or even to use them in the shower. Don´t leave them behind.

Waterproof boots – If you know you are travelling to a rainy area and you feel comfortable with them, this is your footwear to withstand such weather.

Formal shoes – Are thinking about attending a concert in Vienna, the Moulin Rouge, or some other show? Although it is not compulsory, some people like to wear elegant clothes in these occasions. Bear it in mind if you want to attend to something like that.
Do you have any question on what is the best way to store your shoes to avoid spoiling? This video offers you many solutions. Choose which ones to put in your suitcase and never stop walking.
We are positive you know some more tips on what to do with your travel clothes. Would you like to share them with us? Surely other travellers can benefit from your ideas. Do you want to share with us your personal tricks to do the packaging? HAPPY JOURNEY TRAVELLERS!