Saudi Arabia , located in the heart of the Middle East, is a fascinating country that offers a rich mix of culture, history and stunning landscapes. Although most people associate the country with oil and religion, there is much more to explore and discover in Saudi Arabia, especially for curious travelers. In this article, we present ten curiosities about Saudi Arabia , with a special focus for those who love to see the world with Europamundo . Prepare to be amazed by this land of contrasts and hidden beauties!

Jeddah in Saudi Arabia
10 curiosities that perhaps you did not know about this destination:
1. Al-Ahsa Oasis
The Al-Ahsa region in eastern Saudi Arabia is known for its lush oases and stunning landscapes . It is considered the largest continuous oasis in the world and is also recognized as a UNESCO World Heritage Site . With Europamundo you will be able to discover in this region the walled city and the small salt lagoons where up to 200,000 tons of salt are produced per year, in addition to being able to explore lush green gardens, palm orchards .
2. The lost city of Madain Saleh
Did you know that Saudi Arabia is home to a little-known archeological gem? Madain Saleh , also known as Al-Hijr, is an ancient city and one of the country's crown jewels in terms of cultural heritage. A UNESCO World Heritage Site , Madain Saleh is home to impressive rock-cut tombs, vestiges of ancient civilizations such as the Nabataeans. This lost city rivals the famous Jordanian Petra in beauty and historical importance.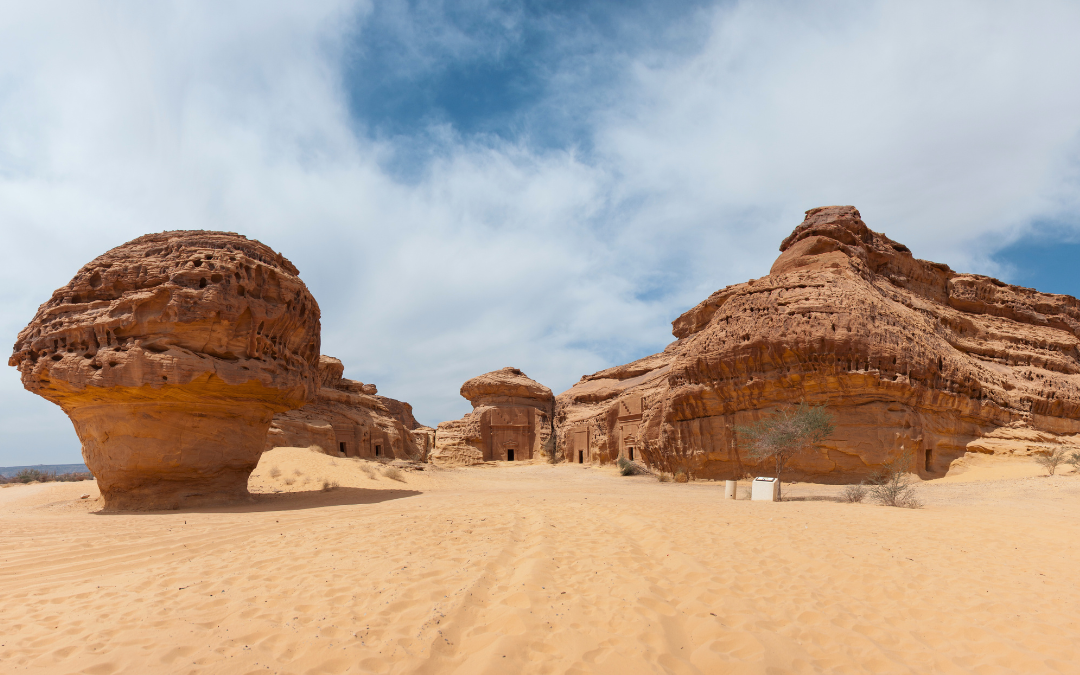 Nabataean Tombs
3. Red Sea and scuba diving in Jeddah
Saudi Arabia has a beautiful coastline on the shores of the Red Sea, and on our tour you will have the opportunity to see the famous Al-Rahma mosque , better known as the floating mosque because it was built on the shores of the Red Sea with pillars over the water. You will also enjoy the lively sports port, close to the tracks where the Formula 1 circuit is held! You will be amazed by its contrasts, with an enormous reconstruction to convert it into a great world megalopolis . In this same location stands the emblematic Jeddah Tower, the tallest building in the world, with a height of more than 1,000 meters when the works are finished.
4. The modernity of Riyadh
The capital of Saudi Arabia , Riyadh (Riyadh), is a living example of the combination of tradition and modernity . Despite being a city rich in history and culture , Riyadh also boasts impressive contemporary architecture . In our trip we will include the climb to the "Kingdom Center" tower , the tower of more than 300 meters high that offers spectacular views of the city! You will also have the opportunity to visit the Al Turaif neighborhood in Diriyah , an area declared a World Heritage Site by UNESCOand, at the same time, you will get to know an area that boasts modern shopping malls, restaurants, and luxury hotels.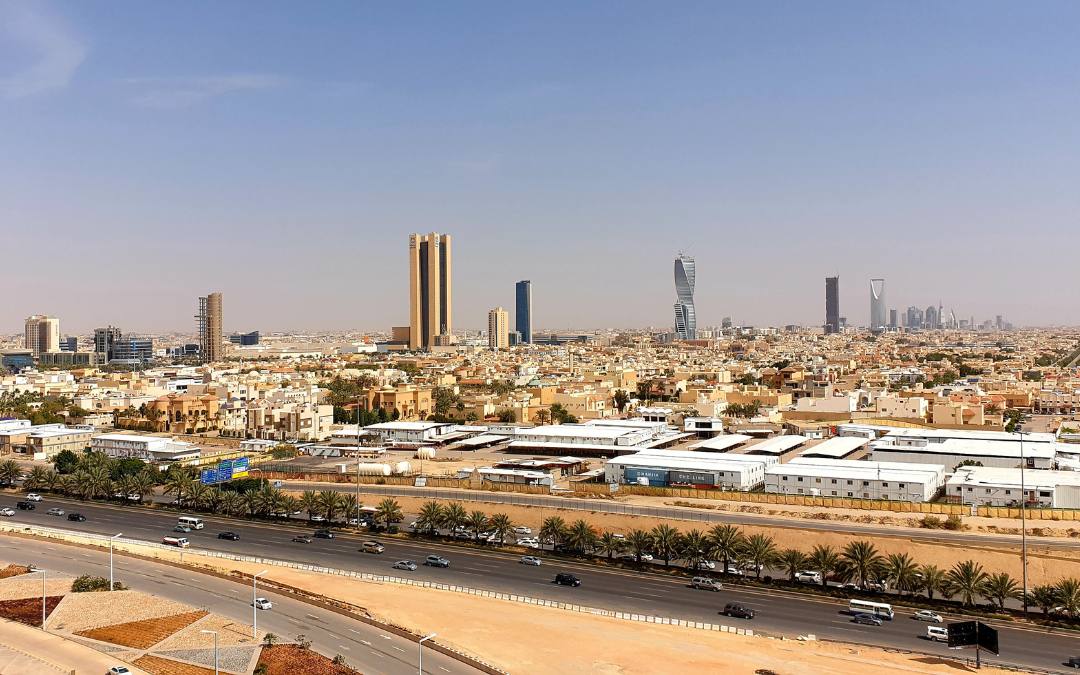 Riyadh of Saudi Arabia
5. The mystique of Mecca and Medina
Mecca and Medina are two of the holiest cities for Muslims, attracting millions of pilgrims each year . Although access to the restricted area of ​​​​the Grand Mosque of Mecca is reserved for Muslims only, visitors can explore the surroundings and soak up the spiritual atmosphere that surrounds these historic cities.
6. The beauty of the Al-Ula oasis
One of the most spectacular places in the world that you can visit on this trip is the region and oasis of Al-Ula  an authentic open-air museum surrounded by nature where you will find rock formations, canyons and ravines that compete with the majestic treasures carved by its former inhabitants. A Europamundo experience that will surprise you!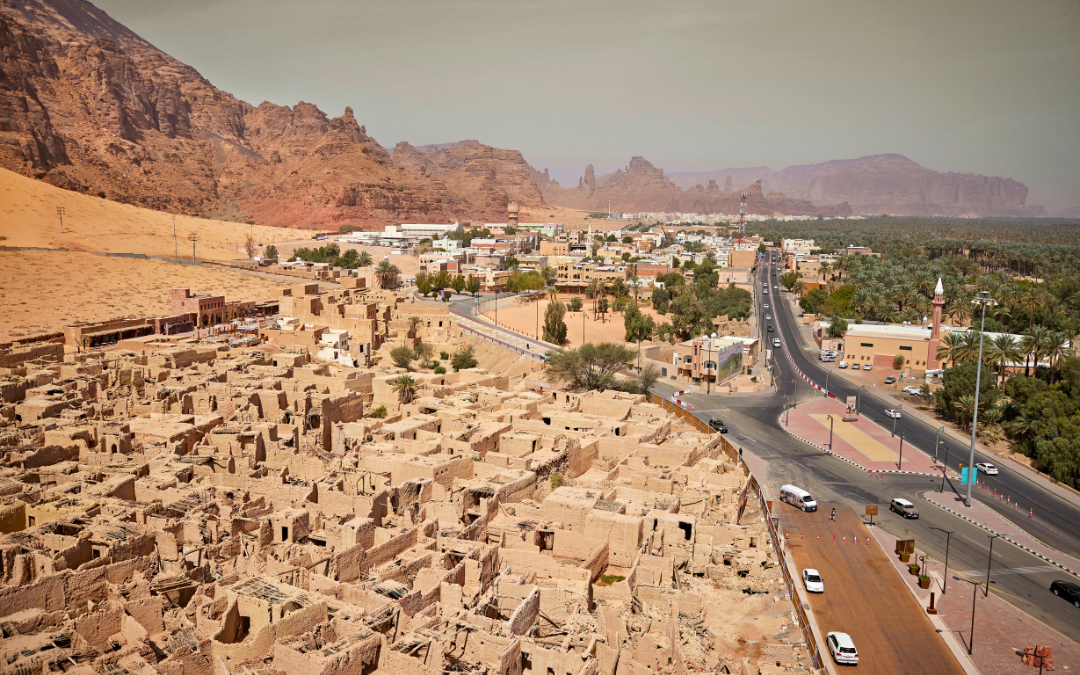 Al Ula City
7. Spring in the city of Taif
Very popular city with modern shopping malls and numerous amusement parks with beautiful rose gardens. During our trip you will visit King Faisal Park , in Qadeera (it is around the city) which hosts a rose festival every year, where you can see the roses that are used to make local perfumes. in Taif, more than 900 rose farms produce 300 million flowers. Taking advantage of this, in our itinerary we will visit a rose oil factory, in addition to being able to walk through the central market of the city, to be able to walk through the labyrinth of narrow streets, to see local spices with honey, perfumes, jewelry, among others.
8. Janadriyah Festival
One of the most important cultural events in Saudi Arabia is the Janadriyah Festival . It is held annually in the Riyadh area and is a joyous celebration of Saudi heritage , which includes handicraft exhibitions, musical performances, traditional dances and cultural shows. It is a unique opportunity for visitors to immerse themselves in the rich culture of the country !
9. A vila de Rijal Almaa
The village of Rijal Almaa is an authentic jewel with Europamundo tour. This charming place is known for its traditional stone houses, with distinctive architecture and a rich history . There are almost 60 palaces built with natural stone, clay and wood . Each house in Rijal Almaa has its own name, which conveys its identity and also its individuality. Visitors have the opportunity to explore alleys, alleys and picturesque courtyards, and testimonies of traditional Saudi life preserved off the coast of the centuries.

10. Hijaz Railway Line
A fascinating tourist curiosity of the Hejaz Railway  is that some sections of the old line have been restored and open to visitors. History enthusiasts and trains can embark on a nostalgic journey along this century-old railroad , walking along its path, enjoying the desert landscapes and exploring this important historic route. In addition, some old wagons have been preserved and converted into mobile museums , where artifacts and photographs from the time of the Hijaz railway are on display. A legendary railway route with immense cultural and historical importance !

Villa of Rijal Almaa
As you can see, Saudi Arabia offers a wide variety of tourist attractions , from ancient cities and archaeological sites to impressive natural landscapes and fascinating cultural events ! This country overflowing with curiosities offers travelers a unique opportunity to explore a rich culture, experience a warm hospitality and discover impressive historical places . When visiting Saudi Arabia, you will be immersed in a journey of discovery that will leave you with unforgettable memories! So don't stop considering this intriguing destination for your next trip.
If you wish, click on this link and discover the different travel options so that you can enjoy this beautiful experience with Europamundo!