Are you travelling to Rome? In this post we are going to share with you some clues to help you to get the most of the Eternal City from the very moment you arrive. Maps, visits, activities with children, and much more that you can find if you keep on reading.
You can get to the Eternal City through two different airports: Fuimicino and Ciampino, one of them 30 km far from Rome, and the other one 15 km far, with several low cost flights that get there. Anyway, either you land in any of these airports, we are going to show you the best way of getting to the city from them and back.

AIRPORTS IN ROMA
 FIUMICINO AIRPORT:
Buses to Rome:
There are several companies that goes directly to Rome´s Termini Station ( Fuimicino – Termini). You can easily find the stop in the airport in the following map. The BUS STATION signs will easily get you to the bus stop.
 Terravisión Buses:

One of the best and most economic options to get to Termini Station, in an hour and only for 4 euros. Children under four free. You have departures every 30 minutes, although by night the frequency is slightly minor. You can buy your ticket in the bus or online before travelling to Rome. This option is cheaper and besides you will be able to choose your seat. You can buy your ticket

HERE.

In Rome you can get the bus back to the airport in Via Marsala 29.  

.
Buses SIT:

This company offers 22 trips daily from the airport to Rome´s Cavour Square (number 33, near from Saint Angelo´s Castle) and Termini Station (Via Marsala 5). The ticket costs 8 euros and you can buy your ticket directly on the bus or online

 HERE .

The bus frequency is quite irregular. You can check the schedule in their web page. You have buses from 8.30 to 00.30. Although from Rome to the airport the first bus leaves at 5,00 and the last at 20.30. It takes approximately an hour to Cavour and an hour and a quarter to Termini, depending on the traffic and the hour. Children under 4 travel free.
Express train:
Leonardo Express:

It directly connects the airport with Termini each 30 minutes. The journey takes 31 minutes. The ticket costs 14 euros and you can get it online

 HERE,

and also in the ticket window at the station. Train schedule Termini- Fuimicino: from 5,52 to 22,52. Train Schedule Fuimicino – Termini from 6.36 to 23.36. The trains leaves Termini Station from platform 24. Important note: You must validate your ticket before getting into the train in the yellow machines you will find at the platforms entrance. If not, you may be fined.  Children under 12 free.     

Regional Train FR1:

The train stops at all stations on the line and with a cost of €8.00 you can buy online, at the box office and in the automatic machines from the station. There are trains every 15 or 30 minutes. And again, it is compulsory to validate the ticket before getting into the train. If you are buying your ticket at Fuimicino, purchase it in the official blue boxes. If you buy it in travel agencies the ticket will be more expensive.  
Autobuses de línea (COTRAL):
These blue buses are the cheapest way of travelling although the schedules are very irregular. Personally we don´t recommend you to use them. You can get them at Regional Bus Stop.
Taxi:
Rome´s City Hall has established a fixed 48 euros price from Fuimicino to Rome. This fee is permitted to a maximum of four people carrying two large pieces of luggage and  with destination within the Aurelian walls. For destinations beyond the walls we recommend you to negotiate a fix fee with the driver. On the contrary you will have to pay the fee established plus an extra luggage fee.      
Illegal taxis. You must be careful with these vehicles, always more expensive than the regular taxis. Taxis in Rome are white, and you need to see the taxi sign and the license plate, along with the city´s emblem. You must also be careful with those taxis from Fuimicino´s City Hall as they don´t follow Rome´s City Hall fixed fee. We strongly recommend you to check the price before leaving.
CIAMPINO AIRPORT
Direct Buses:
COTRAL- SCHIAFFINI Bus:

These buses will take you to Anagnina Station, last stop of metro´s Line A, located near the G.R.A (

Grande Raccordo Anulare

). The bus has several stops. The ticket costs 1,20 euros and you can purchase it directly in the bus. You may need to pay a supplementary ticket if you are travelling with a large piece of luggage. The ride takes about 20 minutes to Anagnina. The bus leaves each 40 minutes. You can get the bus in the stop number 1 just at the entrance of the terminal.

From Rome to Ciampino, after leaving the metro you will find a path with two galleries. Take the one on the left hand side and go up the stairs; you will find on your right hand side. They will get you to the bus stop to Ciampino.

TERRAVISIÓN Bus:

They go directly, without stops to Termini Station. The ride takes 40 minutes approximately and the ticket costs 4 euros. You can get the ticket directly in the bus or online

HERE.
SIT Shuttle Bus:

These buses have the same route as the Terravision Buses but are more expensive, 6 euros. The rest is the same. You may get more information

 HERE.
Train: There is no train that goes directly from Rome to Ciampino airport, but there is a train that connects the airport with Ciampino train station. Cotral and Schiaffin buses leave each 40 minutes approximately. The trip takes just five minutes and the ticket costs 1, 20 euros (plus a supplementary ticket in case of large luggage). You can consult schedules in the companies´ website Schiaffini or Cotral. Once you get to the station you must get the train to Termini station (1,30 euros). You can get your train each 10 to 20 minutes and the trip takes 15 minutes. We don´t recommend you this option as it is quite complicated.
Taxi: By taxi you will pay 30 euros from Ciampino airport to Rome. This price corresponds to a maximum of four people with two large pieces of luggage and destinations included within the Aurelian walls. Although this fee is announced in several places along the airport, we recommend you to confirm it with the car driver to avoid misunderstandings. Don´t forget to avoid illegal taxis.  
Two different ways of visiting Rome
 1.  Public Transport in Roma
Although the most beautiful way of visiting Rome is on foot, sometimes it is useful to gain some time by using public transport. Here you have some tips to help you to get to some of Rome´s landmarks using public transport:
*Line A (Orange)- goes though Rome from North East to South East, from Battistini to Anagnina. The most important stops, from West to East are:
-Cipro – Musei Vaticani:The closest stop to Vatican Museum and the Sixtine Chapel.   
-Ottaviano – San Pietro: You can get from here to San Peters Square and Basilical
-Spagna: Ideal if you want to visit Spain´s Square and Borghese Ville.
-Barberini – Fontana di Trevi: Five minutes away from Trevi´s Fountain and the best to get to Navona´s Square and the Panteón.

*Line B (Blue)- This line goes through Rome from North East to South, from Rebibia to Laurentina. The most important stops, are the following:
-Colosseo: Near the Coliseum and the Roman Forum.
Remember that Rome´s subway opens daily from 5.30 until 23.30 (Saturdays and Sundays until 1.30)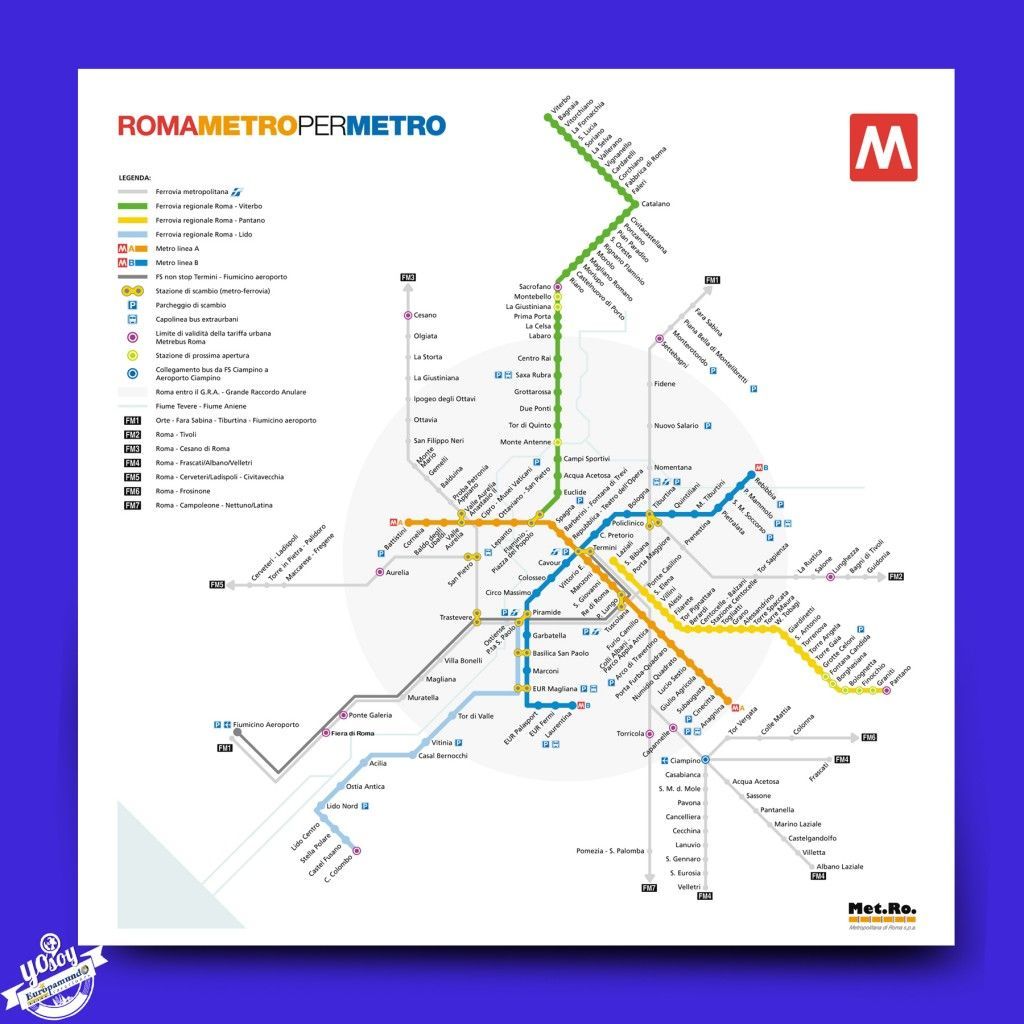 2. On foot
We have already given you the principle metro lines and a map with Rome´s most important monuments, so now you can start planning your visit to the Eternal City. If you need a map, don´t you worry as you will find free maps in your hotel and also in several touristic information spots in the city. So, discover Rome!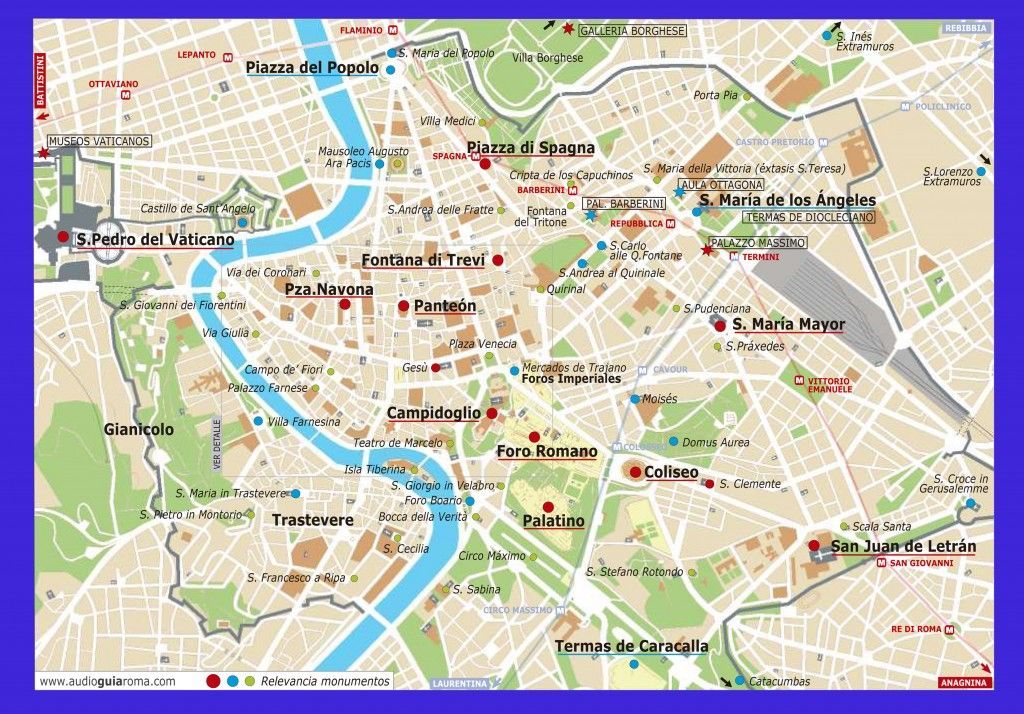 Eating in Roma!
Sometimes when travelling, once we reach a city we want both to enjoy its culture, history and monuments, and also its gastronomy. That is why we are proposing here a gastronomical walk through the Eternal City. Rome is waiting for you.
Rome has an impressive gastronomic offer, but you must be careful, as there are different kinds of places:
Gastronomic establishments:  
Restaurants:

The most expensive of all the local gastronomic offer.

Trattoria: (home restaurants):

These are originally family restaurants which offer homemade cooking in a cosy and friendly environment.

Osteria:

They are a kind of taverns which also serve homemade cooking. Although you must be careful because sometimes, under the name "osteria" you will find expensive restaurants.  

Pizzeria:

The ideal place to enjoy every variety of pizza.

 
Tavola Calda:

(warm table). Already made cooking. Sometimes you could enjoy the meal in tables in the same place.

Pizza a taglio or rustic pizza:

Places to enjoy a slice of pizza.

Enoteca:

Wine bars where you could enjoy some cheese and cold meat while tasting great wines.

Rosticceria:

Freshly cooked food, usually roast chicken

Fast food:

These are snack bars where you can enjoy a cup of coffee a cold drink and grab a sandwich or panini. Along the city there are many lunch trucks which offer sandwiches, pizza slices, cold drinks and ice creams.   
Brief guide to understand the menu:
Sometimes we have some problems, due to the language, to understand the menus and we are not sure if we are ordering a main course or a starter. Here you have some clues. Study!
Antipasti:

The starters

Primo

: First course

Contorno:

This is optional. It is not a second course but generally a side order. Normally it consists in a plate of vegetables.

Secondo:

Second course. Mainly fish, meat or rice.

Dolce:

Dessert

.

It normally includes fruit, ice cream, tiramisu and cheese.
Il conto per favour is the expression you need to use to ask for the bill.
Hours:
In Italy restaurants start to serve lunch at 12.30 until 14.30. Dinner is normally served between 19.30 and 22.30 hours.
There is a great quantity of places to enjoy your meals and, following your comments we have selected some of them, tasty and economical. Anyway, we accept your suggestions!
VATICAN AREA:

 This area is full of restaurants and places to grab some food, although restaurants are slightly more expensive than in other areas of Rome. Be careful when choosing a place to eat. In Borgo Pio street you will find a lot of restaurants:
Pizza Alice en Vaticano:

 Very good and cheap, 3 euros piece (depending on the weight)

Trattoria Il Pozzetto:

high quality roman and regional cooking with reasonable prices. If you are keen on pastries visit the bakery next door. You will be delighted. Borgo Pio 167.
ST ANGELO AREA
Panino Divino Prati:

Just behind Sant Angelo´s Castle, this is a very economical place where you can taste delicious paninis. Via dei Gracchi 11.

 
Pasta Imperiale:

This little place is specialised in take away pasta. You can get a great pasta just for 5 euros. This place is just a few meters from Sant Angelo´s Castle. Via dei Coronari 16
NAVONA AREA

:

In this area almost every restaurant show outside the daily menu. Bear in mind that this area is the most expensive to eat. Some restaurants offers you menus with drink included. Take a look at them when you are there. In Navona´s Square you must taste the famous "tartufos", served in the coffee shops around the square.
Cantina e Cucina:

Just a few steps away from Navona Square, this is an ideal place to eat in the centre of Rome for less than 20 euros. Via del Governo Vecchio, 87.
PANTEÓN AREA
Il Barroccio:

A few minutes on walk from Rome´s Panteon, this is a familiar place that serves homemade and traditional Italian cooking. Via dei Pastini 13.

Matricianella:

Via del Leone, 4. If you want spicy food and overflown dishes, this is your restaurant. We recommend the meatballs with truffle and bucantini alla matricinella.
TRASTEVERE AREA

: One of the most enchanting areas of Rome and undoubtedly the cheapest area to eat.  
Trattoria Al Moro:

Vicolo Delle Bollette, 13. Small trattoria so we recommend you to make a reservation. It is near Trevi´s Fountain. It is a little expensive but worthwhile. You won´t find pizza in the menu.

Cave Canem:

In Trastevere with terrace. 2 person 35 euros with wine (no dessert included)

Grazia & Graziella:

They serve pizza and traditional Italian cuisine in a cosy and friendly environment. Largo M.D. Fumasoni Biondi 5.  

Da Lucía:

Vicolo del Mattonato, 2. Homemade Italian cooking with delicious desserts. After 20 the restaurant is crowded. Don´t miss it.

Da Enzo al 29:

Via del Vascellari, 29. Very typical place in Trastevere, this is a small place frequently crowded. Desserts are delicious and the house special is spaghetti carbonara.

Il Ponentino:

Familiar Trattoria with "touristic menus" for 10 euros. Don´t miss the lasagne, penne all´arrabiatta and tiramisu. Piazza del Drago, 10.

Da Giovanni:

This tiny

trattoria

in Rome serve tasty and cheap dishes. You may pay 15 euros for two persons. Via della Lungara, 41.
¡¡¡Buon appetito!!!
PS: Don´t forget to send us your suggestions.

And now let´s talk about Museums!
Rome is Art´s cradle. Every corner is a work of art. Walking along the street of the city supposes an immediate journey to the Rome in the history we learnt. And if walking through the streets is already a walk through art, just imagine all the things you may find in the Vatican Museums. And for those art lovers Europamundo offers you an optional visit to these museums.
Normally the Vatican Museums are closed on Sundays. Our panoramic visit to Rome ends alongside the Vatican, so you can use your spare time to know this complex. We have prepared an optional visit for those travellers interested with an expert guide graduate in Fine Arts. We will visit the most important halls of the Vatican Museums:
Tapestry galleries.

Sculptures

Paintings and

Some other halls that will give us the opportunity of admiring some of the most important pieces of art of the Ancient, Classical  and Renaissance period.

The visits will reach its peak in the Sixtine Chapel, amazing after an impressive restoration.

Finally we will go through the Basilica, where we will see Micheangelo´s

Pieta

, Saint Peter´s Baldaquino or Michelangelo´s dome.
This three hours optional excursion includes:
Visit tickets to Vatican Galleries, The Sixtine Chapel, and Saint Peter Basilica.

Local expert guide Spanish speaker (maximum 40 people per group)

Access to the Vatican with earphones, privately connected to your guide.  

There is a minimum of 20 people to form the groups. The guide will explain everything to you when you get there.
Do you want to take a look at all you may find along the halls of the Vatican Museums. Just watch this video. You will want to see it for yourself.
You can use our TOUR FINDER   to see our tours in Rome and enjoy this optional excursion. Choose any of our options in the finder and select either "Italy" or "Rome". The system will show you a list of all Europamundo´s Tours that visit these places. Clicking in the tour you choose, the system will open a new window where you will find all the information you may need. You may even get your own budget. Besides you will find videos, photographs, the complete itinerary and also check the rest of optional excursions.  
Do you know it already?

Rome with children
Sometimes we travel with our children without being sure of what to expect, doubting if they are going to get bored, or if there will be some activities to do with them.
Here you have some clues that will help you to make your children enjoy the tour:
Choose your visits carefully and do not try to do everything.

Emergency resources: Always bring a game of card in your bag; a tablet maybe; let them make some pictures.

Create some game specially for them along the tour: ask them to identify angels in the Sixtine Chapel, or to count the colums in Saint Peters. 
In this website  you will find advice to enjoy your holidays in Rome with your children. We assure you that they are very useful.
We are sure that with all these options you are going to have a great visit to Rome. Don´t you think. And if you have already been there and want to share your experience with us please tell us about your visit!!